Volume 25.1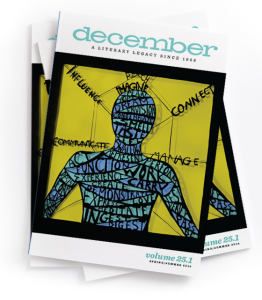 Buy a single copy or subscribe now
Our Spring/Summer 2014 issue is available now, featuring the winners of the inaugural december awards.
Following is a complete list of the work included in the latest issue.                           (Signing in below will activate the links to read the contest-winners online.)
december awards
Greg Jensen
Anybody Mentions the Pope (Winner, Poetry)
Dina Elenbogen
A New Year (Honorable Mention, Poetry)
Jim Nichols
Owls (Winner, Fiction)
Michael Fertik
Hunting in Nangarhar (Honorable Mention, Fiction)
Garet Lahvis
NQR (Winner, Nonfiction)
Jenny McKeel
Saigon (Honorable Mention, Nonfiction)
Please enter your name and email to read the prize winners and honorable mentions.
(Don't worry, your email address stays between us!)

poetry
Dehlia Ackley
Family As . . . 
Jeffrey Alfier
Sabbath Crow
Peggy Aylsworth
As In The Sound Of Words
As Walls Come Down
Tanya Bomsta
Cartography
Kerry Carnahan
To A Soldier
Roland's Mother Bakes
Tobi Cogswell
Winter League
Rachel On The Morning Of What Would Have Been
Her Tenth Anniversary
Christopher Cokinos
The Difficult Crossing
Kallie Falandays
Hearing Crying In Houses Is Normal
John Fitzgerald
Smoke & Stone Grant An Interview
Jonathan Greenhause
The Future-Without-Me
12   12   12
A Ballroom, Without The Dancers
All Of Our Different Selves
Michael S. Harper
Favella: Rio On The Run! Trust In
Homestead Improvised! (Together)
Jen Karetnick
Brief Sonnet On Collecting Deviled Egg Plates
Recipe For Mithridatism
Susanna Lang
Flood Stage
Jeanne Morel
Night Sweats
Larissa Nash
Lily, Trapped In Limbo
I Am Wolf
Paul Nelson
Love's Accident
Smolder
Richard King Perkins II
Fencepost Of Salvation
Frederick Pollack
A Poet Of My Youth
The Lamp Bearers
Dawn Robinson
An Artist's Childhood
War
Treasure
Tim Suermondt
Woman Near A Lantern
Ira Sukrungruang
The Physics Of Lamentation
Someone Told Me We All Die
Harold Whit Williams
Day After Christmas Blues Poem
Time Out
fiction
Ron Austin
Freezer Burn
William Cass
Nazca Lines
Mike Ingram
The Ruling Classes
Craig O'Hara
New World Record
nonfiction
Tabitha Blankenbiller
Sudden Dust
Karen Holman
Vanishing Act
art
Béatrice Coron
Cover Art
Christine Hiebert
Works On Paper
Maria Porges
Drawings